Artur Klinau Lecture – Minsk: The Sun City of Dreams
Apr 28, 2017 @ 2:00 pm
-
3:30 pm
311 Kaplan Hall,
415 Portola Plaza




Los Angeles

,

CA

90095

United States
+ Google Map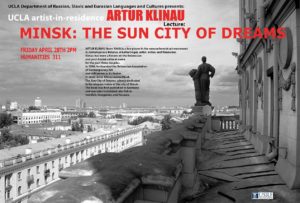 Join us for a free lecture featuring Artur Klinau on Friday, April 28, 2017 at 2pm in 311 Kaplan Hall.
ARTUR KLINAU (born 1965) is a key player in the nonconformist art movement in contemporary Belarus. A kulturträger, artist, writer, and filmmaker, Klinau has been a fixture on the Belarusian and post-Soviet cultural scene for the past three decades. In 1998, he founded the Belarusian Association of Contemporary Art and still serves as its leader. He also conceived NAVINKI, the only Belarusian festival of performance art. In 2012, Klinau was included in the national Belarusian exhibition at the 54th International Biennale in Venice. In his career, Klinau has participated in more than a hundred group exhibitions and more than thirty personal exhibitions.
Klinau began his work in the 1980s as a painter and a participant in the Minsk underground movement of the 1990s. With Lukashenko's rise to power in 1994, Klinau transitioned to installation art, with pieces including The Death of Pioneer 1 and 2 (1995-2000), The Columbarium of World Literature (1998), Palacci Per Ucelli (2001), A Sweet Straw Life (2003, 2005), Partisan Boutique Transportable (2006), and The Last Supper (2012).
In 2002, Klinau founded pARTisan, a magazine of contemporary art. As the chief editor of pARTisan, Klinau maintains the magazine and an online multimedia platform that supports the Belarusian contemporary art movement, fostering its production and criticism. pARTisan remains one of the few spaces where post-Soviet Belarusian cultural identity is articulated and negotiated.
In 2006, Artur Klinau wrote Minsk. The Sun City of Dreams, a book dedicated to his utopian vision of the city of Minsk. The book was first published in Germany and was later translated into Polish, Swedish, Hungarian, and Russian. His novel Shalom. A War Novel. (2011) was translated into Russian and German, and another novel, Shklatara (2013), received the Giedroyc Prize in Belarus (2014).
Since 2009, Klinau has been working in the film industry, collaborating with the Belarusian director Andrei Kudzinenka. Klinau worked as an art director of the mystical thriller Massacre (2010), Hard Reboot (2014), and as a screenwriter for another mystical thriller, The Nobleman Zawalnia (2010). This film is based on famous literary work by the nineteenth-century century Belarusian writer Jan Barszczewski, one of the early texts articulating Belarusian identity.