Cinema, Culture and The Spirit of Time
May 24 @ 5:00 pm
-
7:00 pm
311 Kaplan Hall,
415 Portola Plaza




Los Angeles

,

CA

90095

United States
+ Google Map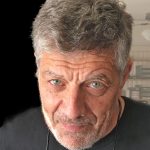 Vladimir Paperny, SEEELC Adjunct Professor, author of the bestseller Architecture in the Age of Stalin: Culture Two, translated into several languages, the Russian-language novel Schultz' Archive, short-listed for the Big Book Award, and other publications, recently published a book based on the work he started with the late Maya Turovskaya—a comparative analysis of Soviet and American cinema of the 1930s–1960s, Cinema, Culture, and the Spirit of Time (NLO, 2022, in Russian).
Paperny's ability to see connections between disparate areas of culture caught the attention of Maya Turovskaya (1924–2019), a prominent theater and film critic and historian, who invited him, despite a 20-year age gap, to collaborate on the Soviet-American films project. Their comparative analysis of films from the 1930s–1940s provided implications beyond the realm of Film Studies, moving closer to Cultural Studies. The first PowerPoint presentation of their project was shown at the Kennan Institute in 2008 and received a positive response.
A few months before her death, Turovskaya sent Paperny all her archives relayed to the project with a request "You have to turn this work into a book." Paperny immediately set to work. He expanded the timespan of the project to the 1960s, adding films of the "Thaw" he and Turovskaya never discussed, as well as the history of his friendship and collaboration with Turovskaya going back to the 1950s.