From Soviet Hell to the Putin Nightmare
May 3 @ 6:00 pm
-
7:00 pm
10383 Bunche Hall,
11282 Portola Plaza




Los Angeles

,

CA

90095

United States
+ Google Map
Two Literary Protest Almanachs: Metropol (1979) and VYKHOD (2022)
Offering a timely perspective on the literary and political landscape of modern-day Russia, this presentation will discuss two literary protest almanacs, Metropol (1978) and VYKHOD (2022), which feature contemporary non-conformist Russian writers. The Metropol almanac was a collection of uncensored texts by well-known writers including Vladimir Vysotsky, Bella Akhmadulina, and Andrei Voznesensky, among others. Metropol was self-published in Moscow in December 1978 in a run of 12 copies and was then smuggled to the United States, where it was reprinted by Ardis Publishing in 1979. VYKHOD (Exit) is a new project by Erofeiev, featuring a collection of contemporary Russian non-conformist writers, most of whom left Russia after the start of Putin's war against Ukraine. VYKHOD features work by prose authors, Vladimir Sorokin and Liudmila Ulitskaya, poets Andrei Makarevich and Boris Grebenschikov, and a new name, Alexandre Delfinov, among others. While VYKHOD showcases writers who fled Russia after Putin began the war, Metropol collected texts that could not be published in the Soviet Union. The comparison of these two collections highlights the evolution of contemporary Russian literature and offers insights into the country's history, politics, and society. Erofeiev will explore the differences between Metropol's hopefulness and VYKHOD's despair, themes of disillusion, and the weakness of liberal resources in Russian society. A Q&A session will follow the presentation.
Speaker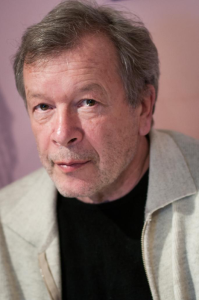 Born in Moscow in 1947, Victor Erofeiev is a well-known writer, television, and radio personality. His father was Stalin's personal interpreter for French. He became known worldwide for his novel Russian Beauty, published in 1989 and translated into 27 languages. In 1979 he was expelled from the USSR Writers' Union for his participation in the literary anthology Metropol, which included texts that were banned by Soviet censors. After the collapse of the Soviet Union, he republished this almanac. Erofeiev's writing, particularly his novel Encyclopedia of the Russian Soul (1999), has been controversial among Russian nationalists. (1999). Erofeev's contributions to literature have earned him numerous accolades, including the Legion d'Honneur and the Ordre d'Art et Letters in France and the Kommandor Cross in Poland. Besides writing, Erofeiev has taught and lectured around the world in English, French, Russian, and Polish. He contributes regularly to German newspapers, including FAZ, Die Zeit, and Die Welt. In March 2022, Erofeiev left Russia and is now a professor of literature at Luneburg University in Germany. In April 2023, he published a collection of essays titled Naked Russia, dedicated to Russia's ongoing invasion of Ukraine. In his most recent work, The Great Gopnik, to be published by Matthes & Seitz later this year, he relates his biography to that of Vladimir Putin.
Additional Links:
Sponsor(s): Center for World Languages, Department of Slavic, East European & Eurasian Languages & Cultures