The History of Belarusian Vyzhyvanka
Mar 3, 2021 @ 1:00 pm
-
4:00 pm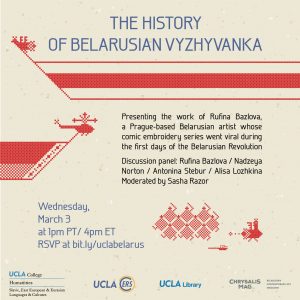 THE HISTORY OF BELARUSIAN VYZHYVANKA
on March 3th at 1 pm
Keynote address by Rufina Bazlova, a Prague–based Belarusian artist, followed by a discussion by Nadzeya Norton, Antonina Stebur, and Alisa Lozhkina.
The online panel will be moderated by Dr. Sasha Razor, a recent alumna of UCLA's Department Slavic, East European, and Eurasian Studies and exhibition curator.
This program is co-sponsored by the UCLA Department of Slavic, East European and Eurasian Languages and Cultures, the UCLA Center for European and Russian Studies and Chrysalis Mag
Registration is required. To receive the link to join, please register here: http://bit.ly/uclabelarus
Link to the recent radio interview with the artist (8 min.): https://english.radio.cz/belarusian-artist-prague-embroiders-anti-lukashenko-protests-ward-bad-spirits-8689198
Recently published interview in Chrystalis Mag with Rufina Bazlova: https://chrysalismag.by/project/rufina-bazlova-the-history-of-belarusian-vyzhyvanka
For more information about Belarus, please check the UCLA Library research guide: Protest and Politics in Belarus.
The information on current political state of Belarus can be found in the article entitled: "The Lesson of Belarus" by Sasha Razor, PhD.
ABOUT
On August 9, 2020, peaceful decentralized protests erupted across the Republic of Belarus to contest the falsified presidential election results. The unprecedented scale of public mobilization caused the illegitimate dictator Aliaksandr Lukashenka to quip that these protests were directed by Czech puppeteers who allegedly manipulated them from Prague. Lukashenka's propaganda uses the metaphor of puppeteers and marionettes to discredit the frontwomen and -men of the protests and thus deprive them of their agency. The rhetorical trope of the Czech puppeteer later became the subject of many memes within Belarus. This exhibition responds to this discourse by presenting the work of Rufina Bazlova, a Prague-based Belarusian artist whose comic embroidery series "The History of Belarusian Vyzhyvanka" went viral within the first days of the protests. The medium of traditional embroidery is a widespread transnational phenomenon that uses elements of folk culture as a national commodity and marker of belonging. Belarusian embroideries are a specific code for recording information about the lives of the nation. Bazlova utilizes this medium to narrate the ongoing saga of the Belarusian uprising, where each tableau corresponds to an actual event that took place during the last four months of the protests.
Vyzhyvanka is a pun combining two Belarusian words, "embroidery" and "survival."
Vyshyvanka means "embroidered shirt."
Vyzhyvat' means "to survive."
MEET OUR PANELISTS:
Rufina Bazlova is a Prague-based multi-genre artist who works in illustration, comics, artist books, puppet making, scenography, performance, and costume design. Bazlova gained an international profile for her series "The History of Belarusian Vyzhyvanka," which uses the traditional folk cross-stitch medium to depict the ongoing peaceful protests in Belarus, her home country. Rufina holds her undergraduate degree in Stage Design from the Theatre Department of the Academy of Performing Arts in Prague (DAMU) and the MgA degree in Illustration and Graphic Design from the Ladislav Sutnar Faculty of Design and Art at the University of West Bohemia. Together with her colleagues from DAMU, she founded a creative group of puppeteers called Sleď Pod Kožichem (Herring Beneath the Fur Coat). Their play "RAW" was nominated for the Greenhorn Award at the prestigious Figura Theatre Festival in Baden (Switzerland) in 2020.
Nadzeya Norton is a Belarusian activist, ethnographer, social and cultural anthropologist located in the San Francisco Bay Area. Born in Minsk (Belarus), Nadzeya has graduated from Belarusian State University in Minsk with an MA degree in history and developed and taught the course of "Belarusian History and Culture" at the Southwestern College in Kansas while she was a visiting scholar of the Center for Belarusian studies. Since 2016, Nadzeya has concentrated her efforts on promoting, preserving, and developing Belarusian culture, tradition, and history in California. She's the producer of "Etna-tradycyja," an organization aimed at popularizing music folklore. During the last Presidential campaign in Belarus, Norton became the leader of the Belarusian community in the SF Bay Area and organized the largest protest events (rallies, meetings, marches, art exhibitions, performance, etc.) on the west coast to express solidarity and support protest actions in Belarus.
Antonina Stebur is a Minsk and Moscow-based curator and researcher. She studied visual and cultural studies at the European Humanities University in Vilnius, Lithuania, and at the School of Engaged Art of the art group "Chto Delat?" [What is to be done?] in Saint Petersburg, Russia. She is a member of the artist group #damaudobnayavbytu [Woman convenient in everyday life], which examines the feminist agenda in the Belarusian and post-Soviet context in general. She has curated several exhibitions in Belarus, Russia, Poland, France, and China. Antonina is a member of a research group AGITATSIA dedicated to political performance art practices, actionism, and art activism. Together with Anna Samarskaya, she authored the book The History of Belarusian photography (2019). Her research areas and curatorial interests include community, re-composition of everyday practices, feminist critique, a new sensibility, grassroots initiatives, post-Soviet, political art, performance, and art-activism.
Alisa Lozhkina is an independent Ukrainian curator, art historian, and critic currently based in the San Francisco Bay Area. In 2010-2016 she was the editor in chief of the major Ukrainian art magazine ART UKRAINE. In 2013-2016 she served as a Deputy Director of Mystetskyi Arsenal. Lozhkina curated seven large-scale international exhibitions of contemporary art, including "Permanent Revolution. Ukrainian Art Now" at Ludwig Museum, Budapest, which, which was nominated for Global Fine Art Awards (New York, USA) as one of the best museum exhibitions of post-war and contemporary art in 2018. Additionally, Lozhkina is known as the author of the following books: Point Zero. The Newest History of Ukrainian Contemporary Art (Сo-authored with Oleksandr Solovyov, 2010) and Permanent Revolution: Art in Ukraine, the 20th to the Early 21st Century, which was published in Ukrainian, French, and, most recently, in English. Alisa is currently an ABD in Comparative History at Central European University (Vienna-Budapest). She is writing her dissertation on the interconnection of art and revolutions in recent Ukrainian history.
For more information, please contact Alena Aissing: aaissing@library.ucla.edu