Olga E. Kagan
In Memoriam: Professor Olga E. Kagan (December 25, 1946 – April 6, 2018)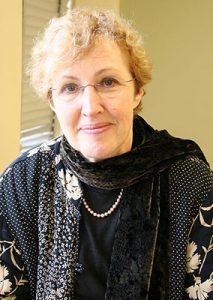 The Department of Slavic, East European and Eurasian Languages and Cultures and UCLA's International Institute share with sorrow the news that Professor Olga E. Kagan passed away on Friday, April 6 at her home in Los Angeles after a valiant battle with leukemia. A member of the UCLA community since 1981 and still active at the time of her death, she was Coordinator of the Department's language programs and Undergraduate Adviser, as well as Director of the UCLA Russian Flagship program. She served simultaneously as Director of the International Institute's Center for World Languages and Director of the National Heritage Language Resource Center. In all these positions she executed her responsibilities with consummate professionalism, sterling integrity and a deep devotion to the pedagogical mission of the Department and University. Over her many years of selfless service to the profession she maintained an active research agenda and carried a teaching load that included both graduate and undergraduate courses. She was admired as a gifted teacher of students on all levels, both of language and pedagogy. In these many roles and activities, she earned the profound respect, admiration and love of her colleagues and students.
Originally from Moscow, Olga Kagan received an MA from the Moscow State Pedagogical Institute and began her career teaching English as a foreign language in the Soviet Union. After emigrating to the United States in 1976, she began teaching Russian as a lecturer, first at the University of California, Riverside and, beginning in 1981, at UCLA. After earning her doctorate in 1997 from Moscow's Pushkin State Russian Language Institute, and in recognition of her growing research profile and national prestige, she was promoted to the University's professorial ranks in 2008.
Over the course of an extraordinarily productive career Olga emerged as one of the country's leading specialists on second language acquisition, in particular heritage language teaching—the instruction of students who have grown up speaking their native language in a foreign language environment, but possess little or no facility in reading or writing in their native tongue.  Olga co-authored eleven Russian-language textbooks, as well as numerous articles and book chapters on heritage language studies. Among her best known publications is Russian for Russians, a textbook co-authored with Tatiana Akishina, and Richard Robin (2000) and aimed specifically at heritage speakers. This textbook is currently used at about thirty universities around the country.
Olga also played an active professional role in the field of second language acquisition. She was a Member of the Board of Directors of the American Council of Teachers of Russian from 1991 to 2010, and also served on the Steering Committee of the University of California Consortium for Language Teaching and Learning.  A selfless institution builder, she was a key member of a UCLA delegation led by Chancellor Gene Block to Russia launching new partnerships with institutions in Moscow and St. Petersburg.  In 2014, Olga brought the Language Flagship Annual Meeting for the first time to UCLA. She served on the International Institute's Faculty Advisory Committee and was always available to share her wisdom, advice and time with humor and inspiration. Her directorship of the Center for World Languages was a model of effective and successful leadership. She was particularly proud of her role in securing and sustaining the federally funded (Title VI) National Heritage Language Resource Center within the International Institute, which under her direction has to date been renewed through three successive cycles.  She had equal reason to take pride in her role as a founding co-editor (along with Kathleen Dillon and Maria Polinsky) of the Heritage Language Journal.
Olga's contributions to the field of second language acquisition did not go unnoticed. She received the "Best Contribution to Pedagogy" award from the American Association of Teachers of Slavic and East European Languages (AATSEEL) in 2001 for her edited volume The Teaching and Learning of Slavic Languages and Cultures.  In 2003 she was honored with AATSEEL's "Excellence in Teaching at the Post-Secondary Level" award, and in 2004 with the association's "Best Contribution to Pedagogy" award for the aforementioned textbook Russian for Russians. Her most recent award came a little over three years ago in Vancouver: at a special session of the annual conference of the Modern Language Association in January, 2015, the Association of Departments of Foreign Languages (ADFL) presented her with the 2014 lifetime achievement award for Distinguished Service to the Profession. Closer to home, at the Third International Conference on Heritage/Community Languages held on the UCLA Campus in February of this year, Olga's colleagues presented her with a volume of essays titled Connecting across Languages and Cultures: A Heritage Language Festschrift in Honor of Olga Kagan, compiled and edited by Susan Bauckus and Susan Kresin (Slavica Publishers, 2018).  The title artfully conveys Olga's own lifelong mission and the core of a lasting legacy that her colleagues will mine and treasure for years to come.