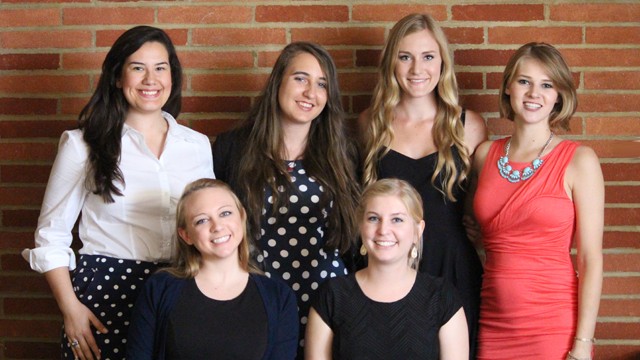 The UCLA Russian Flagship Program is not for slackers. The five-year program aims to produce graduates with "superior proficiency" in Russian. That is, graduates who can carry out professional-level interactions and tasks in Russian in the areas of their major(s), with superior speaking, listening, reading and writing skills.
Students in the program must complete both a summer abroad program and a final "capstone" year abroad studying Russian. The first gives them a chance to get to know Russian culture and prepares them for the second. After students return from the summer program, all of their Flagship courses are subsequently taught in Russian, whether the subject is the Russian language, Russian history, or Russian literature. And if that doesn't sound challenging enough, a number of Flagship students pursue double majors.
Suffice it say, many students didn't know what they were getting into when they enrolled in the program. As senior Annie Sundelson recounts, "I don't think any of us expected how demanding the program would be when we were freshman. Then we realized, 'Oh, my God — this is a lot of work!' But once you're in it, you're in it." Second-year student Heleanna Melendez reports that, on average, she does two hours of Russian a day.
Yet most undergrads stick it out and rise to the program's immense challenge. Smart and tenacious, they come to appreciate belonging to the close-knit community of peers, professors and staff that make up the Russian Flagship Program. "We have really kind faculty members, brilliant professors and a really good community that supports you throughout your four years in Flagship," says senior Clarissa Rodriguez. "For that, I'm very, very thankful."
Banner year for awards and scholarships
So it should come as no surprise that Russian Flagship students win scholarships and accolades right and left. This year was exceptional in that regard: six seniors won Boren Scholarships (at $20,000 apiece) to study Russian abroad for the 2015–16 academic year (their "capstone" year): Amanda Marshall, Olivia Miller, Clarissa Rodriguez, Melanie Dalby, Hristriana Petkova and Katya Belikova.
Two other students — Kathy Pham and Heleanna Melendez — won Critical Language Scholarships from the U.S. Department of State to study Russian abroad this summer. And yet other student, Annie Sundelson, won the UCLA Library undergraduate research award in arts and humanities for her senior thesis, "Putin's Dirty Little Secret: HIV/AIDS in the Russian Federation."
Although Flagship students historically have studied in St. Petersburg, growing anti-American sentiment in Russia has caused the U.S. Defense Department, which funds both the Boren Scholarships and Flagship Programs around the country, to require Russian-language students to study outside of Russia. UCLA Flagship students now study in Kazakhstan, a former Soviet republic where Russian is an official language.​They will attend Al-Farabi Kazakh University in Almaty, live with host families and, in addition to taking classes, do an internship. Sadly, the students will also be prohibited from traveling to Russia throughout the duration of the scholarship.
Needless to say, the UCLA students are deeply disappointed, especially those who were bumped out of Russian summer programs last year for the same reason. Ironically, the U.S. Department of State has not placed the same restrictions on Critical Language Scholarships, so Pham and Melendez will be going to Russia this summer, where they will study in Vladimir, one of the eight historic "Golden Ring" cities northeast of Moscow.
Career choices drive language choice
Perhaps unsurprisingly for this generation, many of the Boren Scholarship recipients chose to study Russian precisely because the U.S. government deems it a language critical to national security. One of the requirements of the scholarship is that recipients must work for the government for one year (in the area of national security) upon completion of their studies. Beyond intelligence analyst–type positions in the Departments of State, Defense and Homeland Security, their government service can relate to sustainable development, environmental degradation, global disease and hunger, population growth, migration or economic competitiveness.
Senior Melanie Dolby, a political science/ Russian studies double major, began studying Russian both because of the political science foreign language requirement and her interest in working for the government or an international NGO. "I knew that they valued people who could speak a critical language," she says," so I looked at the list of critical languages and I looked at the ones that were taught at UCLA, and I ended up in Russian. And now here we are."
When asked what she most liked about Russian, she responds that she enjoys the etymology of the language: "I actually really enjoy learning the background of certain phrases — how different words and thoughts get put together and the history behind certain phrases."
Hristriana Petkova, another senior with a political science/ Russian studies double major, remarks, "I was really curious about Russian and I heard that UCLA had a really good program, so I decided to give it a shot. I did not expect for it to consume my life in the way that it has, but it did! So here I am. . ." (Fatalism seems to run deep among Flagship students!)
Along the way, Petkova had to overcome her parents' prejudice against the language, as they had grown up in communist Bulgaria and resented the USSR's treatment of their country. "I, like Melanie, have government ambitions — hopefully, to work at the State Department or even the United Nations," she explains, "and I really think that the Russian Flagship Program is a good stepping stone for that."
Senior Olivia Miller, a double major in Russian studies and atmospheric-oceanic/ environmental sciences, is another student who has always wanted to work in the government. She, too, chose to study Russian because it was a critical language. "I looked into the critical language opportunities and Russian was the most appealing to me," she says. "In the Russian Department, people email you out of nowhere with opportunities that they're hearing about for jobs and other things. It's great to have such a strong support system at a huge university."
Katya Belikova, a global studies and Russian studies double major, was born in Nizhnii Novogorod, but did her K–12 education in the United States. A heritage speaker, she attended a separate track of language classes designed for students who grew up speaking, but not necessarily reading or writing, Russian. "My goal coming into the UCLA Russian Flagship Program was to improve my speech and reading abilities so that I could better communicate with my family, as well as going into my career," she says. And what an unusual career she hopes to build: "I'm actually looking into a career in counter-terrorism, specifically, security system design in airports and embassies."
While her peers are looking forward to the immersion program to reach fluency and expand their vocabularies, Belikova is hoping the year in Kazakhstan will improve her grammar, helping correct "the mistakes that I've been making for 20 years that my parents didn't bother fixing because they were just happy that I was speaking Russian (versus English) in the home!"
Other routes to the Russian language
On the other end of the spectrum is Boren Scholar Clarissa Rodriguez, who fell in love with Russian culture and history in high school, starting with the film "Anastasia." For a young woman who has never traveled abroad or even been on a plane before, Rodriguez will be doing a lot of both in the near future. She travels to Kazakhstan for a study abroad program this summer, then turns around and flies to Washington, DC, where she meets up with her UCLA peers and returns to Kazakhstan for her capstone year.
A disabilities minor, she says, "I have this master plan of working with the Bureau of Education and Cultural Affairs [of the State Department] to organize exchange programs with students with disabilities in other countries — namely, the former Soviet republics and Russia — so they can experience what disability law is like here in America and maybe take back what they learn to their societies."
Senior Amanda Marshall, a double major in linguistics and Russian studies, has perhaps the funniest story about her path to Russian. "I started out taking Russian because for the linguistics major, you could take two languages and one of them has to be an eastern language. At the time, as a freshman, I assumed that Russian was [an eastern language]. Turns out that it's not," she says ruefully. "But I was immediately hooked, I fell in love with the grammar, the structure, with the sounds of Russian . . . it's an incredibly fascinating language and it continues to captivate me today.
"It's a very difficult language and also a pathway to a plethora of careers," continues Marshall, "so my friends are people who are studying political science, disability studies, people who are going to be scientists," she remarks. "You really get to meet an incredibly diverse group of people studying this language."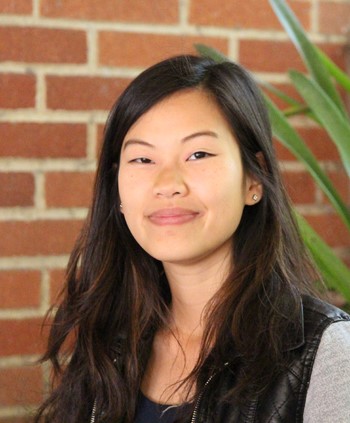 Kathy Pham, a double major in geography-environmental studies and Russian literature and language, began studying Russian before she came to UCLA. The recipient of a National Security Language Intensive for Youth (NSLI-Y) scholarship sponsored by the U.S. State Department, Pham took a gap year between high school and college to study Russian in Cheboksary, capital of the Russian Federation's Chuvash Republic.
But that's getting ahead of the story. Pham first got interested in learning Russian when she made friends from Central Asia at a Ben Franklin Summer Institute for Asia held in Virginia several years ago. Noticing that they would slip into Russian after a long day of speaking English, she had them teach her the Russian alphabet and some basic words in Russian. But then she thought, "I don't want to stop here. I don't want to learn just a few phrases, why not continue?"
About the same time she applied for the NSLI scholarship, Pham found out about the UCLA Flagship Program, "which was really great," she says, "because I realized I could continue my Russian studies [there]. And it just so happened that you could take summer [Russian] classes and that's exactly what I did after I graduated from high school," she relates. The foundation in grammar that she gained in UCLA summer classes helped her get through the yearlong immersion program in Russia, during which she traveled to St. Petersburg, Siberia, Nizhnii Novgorod and Velikhii Novgorod.
When she began as a freshman at UCLA, Pham was already taking intermediate Russian. Last year, she applied and won a NSLI alumni grant to help the West Hollywood Library catalogue its Russian-language collection, recruiting her friends in the Flagship Program to volunteer as well. In addition to studying in Vladimir this summer, Pham hopes to join the group of UCLA seniors going to Kazakhstan in the fall. "I want to go because it's going to be a wonderful chance to continue my education about Central Asia," she says, noting that she's presently working on a research project about Central Asian migrant laborers in Moscow.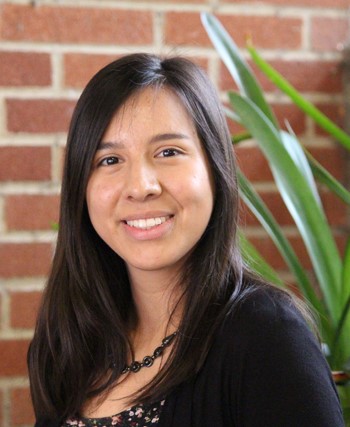 The youngest student going to Russia this summer, Heleanna Melendez, is only in her second year at UCLA, but is already studying third-year Russian. So it's impressive that she has won a Critical Language Scholarship. An intended double major in psychology and Russian studies, Melendez became interested in Russian when she was volunteering in an immigration setting, translating from Spanish to English (and vice-versa) for many families. A Russian family, not understanding that she didn't speak the language, asked her to translate for them as well.
"I really felt bad about that," says Melendez. "So when I received an email to join the Flagship Program, I thought of that incident, and thought it was a good idea." Luckily, she loves the language. "I didn't think I would enjoy it this much," she remarks. Melendez grew up speaking Spanish and English and will become trilingual when she masters Russian. She is hoping to use her languages in a career in forensic psychology, working as an expert witness in court to explain the psychological conditions of victims and/or defendants.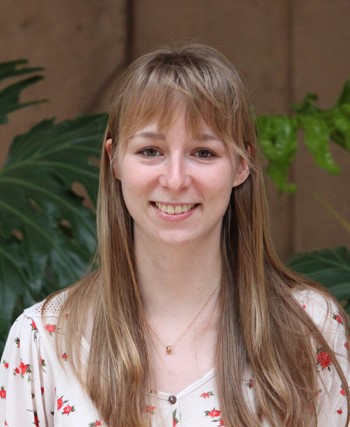 Annie Sundelson, who will start her capstone year in Kazakhstan this fall, has a family connection to the Russian language. Her great-grandmother was Russian and her Russian grammar textbooks were in Annie's home growing up. "I always liked languages, so I decided Russian would be fun and I took it when I was a freshman and fell in love with it, and I'm stuck!" she says. A Russian language and literature major, Sundelson was pre-med for her first two years at UCLA and is now "pre-public health," an unofficial designation that prepares an undergraduate for a Master's in Public Health (MPH).
She has been considering the merits of an MPH, but recent work as a volunteer interpreter for an immigration attorney has her considering law school as well. "I was scared that I was not qualified at all to do this [kind of interpreting]. . .," she says, "but it's been very exciting. I think, 'Oh my God, I can use my Russian, I'm actually speaking the language and understanding it!'"
The UCLA Library prize conferred on Sundelseon's paper is no small honor — she won against stiff competition. "Annie's paper explored an insightful, provocative thesis and displayed thorough mastery of research methods and sources, including books, articles, and electronic materials on a variety of subjects related to her topic," says University Librarian Ginny Steel.
Sundelson points out that the epidemic in Russia is one of the only HIV & AIDS epidemics in the world that is still growing. The reasons for this situation are many, "but the reasons I talked about in my paper are the associations with homosexuality and the politics behind homosexuality in Russia," she says. For example, she explains, even though Russian nursing students – who treat most HIV/AIDS patients in the country — learn that the disease is spread largely through intravenous drug use, a recent survey found that over 30 percent of them believed that all gay people have the virus.
One of Sundelson's favorite classes in the Flagship Program was a translation class that she took with Professor Olga Kagan, director of the Center for World Languages and the National Heritage Language Resource Center at UCLA. "We did a bunch of literature and news articles — everything possible that you could translate. It was really cool," she says. Professor Kagan, who is a highly regarded teacher and very popular among her students, "is like all of our Moms," she adds.
Although disappointed about not going to St. Petersburg for her capstone year, Sundelson remains optimistic. "It will be a good experience," she says. "Different — not Russia, but a good experience. It's so ironic," she reflects. "It's the one time that the government needs Russian speakers and right now, you can't go to Russia!"
By Peggy McInerny, Director of Communications, UCLA International Institute
UCLA International Institute, May 28, 2015